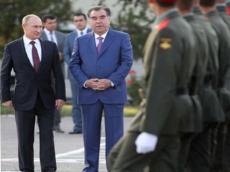 /By AzerNews - Laman Sadigova/
The relations between Russia and Tajikistan have indeed a long history and of course they did see some changes over the years.
Russian Defense Minister Sergey Shoygu's statement on April 16 saying that Russia will surely continue to support Tajikistan in the military sphere once more demonstrated the Northern Giant's strong will to deepen its relations with the former Soviet country.
At first glance Tajikistan may seem to be only one small country among several Central Asian countries, but its geopolitical location gives it a crucial role for the security of the region as a whole.
Since most of the U.S. Armed Forces and North Atlantic Treaty Organization (NATO) left Afghanistan, Russia has become more concerned about the possible deterioration of the security situation in the region.
Tajikistan, which shares a 1,200km-long border with Afghanistan, a country in the grip of a very serious terror insurgency problem became an important geo-strategic asset.
Instability in Afghanistan gave the Tajik government an opportunity to raise its importance vis a vis its relations with Moscow and the West, even if at a modest level.
Russian 201st Division is located in Tajikistan at the border with Afghanistan. This military force is needed to guarantee security and stability in the Central Asian country. According to a military agreement, Russian troops are not expected to leave Tajikistan until at least 2042. It obviously means that Russia's influence is here to stay for the next thirty years.
In contrast to Kyrgyzstan, which opportunistic foreign policy has granted the U.S. Air Force the right to lease a portion of Manas International Airport for its operations in Afghanistan since December 2001, Tajikistan has always been viewed as a primary outpost of Russian strategic interests in Central Asia.
In December 2014 Russian Defense Minister Sergey Shoygu, at the Summit of the Collective Security Treaty Organization (CSTO), said that the Russian and Tajik defense forces must be ready for any scenario that requires to strengthen the combat potential of the armed forces of Tajikistan, as well as Russia's 201st Motorized Rifle Division stationed there.
While tensions between Russia and the Western world are standing to increase, Russia is keen to have stronger relations with the post-Soviet area, properly evaluating its priorities and goals.