It's a boy for actor and reality star Gary Busey and girlfriend Steffanie Sampson.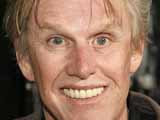 The couple welcomed son Luke Sampson Busey at 6:40 a.m. Tuesday, Feb. 23. The baby boy weighed in at 6 lbs., 7 oz.
"This feels like a dream," the couple said in a statement to Entertainment Tonight. "We feel so blessed and are overwhelmed with happiness at Luke's arrival."
Busey, 65, is already dad to a son, actor Jake Busey, and a daughter, Alectra, from previous relationships.
The couple announced the pregnancy in December. Busey will next be seen in the 2010 comedy Grown Ups.
/People/