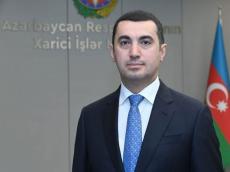 Azerbaijani Foreign Ministry spokesperson Aykhan Hajizada has shared a tweet responding to new insinuations of Iran's Nasser Kanaani regarding press briefing within the Azerbaijani Foreign Minister Jeyhun Bayramov's visit to Israel, Azernews reports, citing the tweet.
"We explained our position on allegations against Azerbaijan. Main question is why the Iranian side sticks to its systematic pattern of deviation from norm and rationality in judgment. This clearly is a biased approach. Who wants to know the truth can watch the briefing video," the tweet said.
Previously, Hajizada made a statement resolutely condemning Kanaani's remarks.
"As is known, Foreign Minister Jeyhun Bayramov didn't voice anything anti-Iranian during the joint press briefing with the Israeli Foreign Minister [Eli Cohen]. In this regard, we consider this statement by the Iranian Foreign Ministry as another step against Azerbaijan," he said.
The Azerbaijani spokesperson emphasized that Azerbaijan has never allowed its territory to be used against third states.
"On the contrary, recently threats against Azerbaijan have been voiced from the territory of Iran, along with certain provocations. The examples include the conduct of military exercises by Iran along the borders of Azerbaijan, military flights over the state border, anti-Azerbaijani statements by Iranian officials, filming and displaying videos with threats to Azerbaijan near the Khudaferin bridge, involving children, by Iranian security structures such as the Islamic Revolutionary Guard Corps (IRGC), a terrorist attack on the Azerbaijani Embassy in Iran," Hajizada said.
According to the diplomat, the initial results of the investigation of the terrorist attack against the Azerbaijani MP Fazil Mustafa, also shed light on the Iranian trail.
"Today, Iranian-Armenian brotherhood is the main threat to the region. Over the past 30 years, Iran, in fact, by its tacit consent, turned a blind eye to the occupation of Azerbaijani territories by Armenia," he noted.