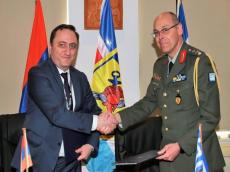 By Azernews 
Armenia and Greece have approved a military cooperation plan for 2023, Azernews reports per Armenian media.
According to the source, the head of the department for defense policy and international cooperation under the Armenian Defense Ministry, Levon Ayvazyan, and the director of the international relations department of the Greek General Staff, Vasilios Tsami, signed the document.
The cooperation plan includes 21 events, of which 15 are planned to be held in Greece, and 6 - in Armenia. The program includes joint drills and exchange of experience of special forces, air defense units, training of cyber units, and peacekeeping forces.
A key component of cooperation will also be cooperation between the intelligence communities of the two countries.
Greece is one of Armenia's major military partners. A similar document, the Tripartite Defence Cooperation Program for 2022-2023 was signed between Cyprus, Greece, and Armenia on August 31, 2021.
Talking to the Greek ambassador to Azerbaijan back in 2020, Azerbaijani President Ilham Aliyev voiced his concern over the ongoing military cooperation between the two countries, noting that "it possesses the existential threat to Azerbaijan because using these weapons, they kill our military servicemen, they kill civilians."