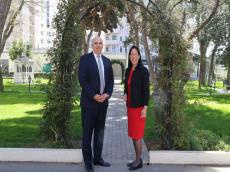 By Azernews 
Assistant Secretary of State for International Organization Affairs Michele Sison is on an official visit to Azerbaijan, Azernews reports, citing the US embassy in Baku.
During the visit, the official is scheduled to hold meetings with counterparts to discuss the US commitment to collaborative multilateral engagement in addressing collective global challenges.
While in Azerbaijan, Sison will address areas of current and potential multilateral cooperation, including in the context of achieving the Sustainable Development Goals and tackling transnational challenges, such as climate change, food insecurity, and global health security.
Besides, she will also advocate for the US candidate for Director General of the International Organization for Migration Amy Pope.
Assistant Secretary Sison leads the US Department of State's Bureau of International Organization Affairs, which develops and implements US policy at the United Nations and in a wide range of other multilateral organizations.