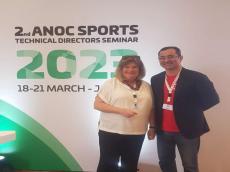 By Azernews
The second seminar of sports directors of the Association of National Olympic Committees (ANOC) was held in Amman, the capital of Jordan, Azernews reports.
Hasanaga Rzayev, Director of the Sports Department of the Azerbaijan National Olympic Committee also attended the seminar.
According to the information received from Azerbaijani National Olympic Committee, after the speech of General Secretary of ANOC, Gunilya Lindberg, the problems arising in the Tokyo-2020 Summer and Beijing-2022 Winter Olympic Games were discussed. Discussions were held on topics such as accreditation, placement of athletes, relationships between athletes and coaches outside the games, and the safety of athletes.
Also, proposals were made at the seminar on strengthening the cooperation of the National Olympic Committees with the federations, and joint activities with athletes and coaches.