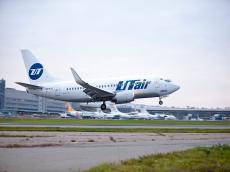 Russia's Utair airline is increasing the frequency of flights to Baku, Azernews reports.
In accordance with its flight schedule for the Khanty-Mansi Autonomous Region in 2023, the airline is opening a number of new routes and increasing the frequency of flights on existing ones.
"The Utair winter program includes 56 destinations to connect the cities of the Khanty-Mansi Autonomous Region with each other, as well as with other regions and countries - this is 20 percent more than it was last season," Company Director Oleg Semenov said.
He added that although most of the new flights are domestic, the company is also increasing its increasing flights to Azerbaijan, Kazakhstan, Kyrgyzstan, Tajikistan, and Uzbekistan.
Meanwhile, passenger traffic in Azerbaijan exceeded 1.6 billion people, which was 33.5 percent more than in the previous year. Most of the passengers (86.7 percent) were transferred by road, 12.9 percent – by metro, and 0.4 percent – by other types of transport.
The Heydar Aliyev International Airport (IATA: GYD) is the largest airport in Azerbaijan and the region in terms of passenger and freight traffic, takeoff and landing operations, the airport terminal area, and the capacity of the cargo complex.
In June 2022, the Heydar Aliyev International Airport was designated as the best airport in the CIS countries for the fifth time in a row according to the Skytrax World Airport Awards. This award is the benchmark of quality for the airport industry.
Skytrax also awarded Baku Airport the highest 5-star rating, as well as the highest epidemiological safety rating during the COVID-19 pandemic.