The probability of the cooperation of "Yeni Siyaset" bloc with "Azadlig" bloc is very little.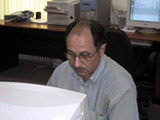 Member of Coordination Council of the bloc, co-chairman of ASDP Araz Alizade told APA that, there is no point in signing a treaty of cooperation with "Azadlig" bloc.
"They should have signed a treaty of cooperation with us for the sake of united list before starting the election campaign. The election campaign has already started, so it too late. They were late to pretend as if they are interested in the cooperation between the blocs. Right wings never implemented the treaty they signed. I do not believe that they are sincere".