"Your Corner" is exactly what you think it is - your stories, pictures, art, and pretty much everything else you can share with the rest.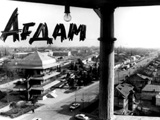 As part of our "Your Corner" project, an anonymous user send us a link to a video, or rather a short film, about the occupied Agdam region of Azerbaijan. Armenian invaders occupied majority of territory of Agdam on July 23, 1993. The Armenian aggressors seized 882 sq km of 1094 sq km territory of Agdam, one city and 80 villages. Some 128,000 people have become internally displaced persons and 17,000 of them are adult people. The video features rare photos and footage of Agdam before the war, and after it.
Watch video:
Also, feel free to take a look at our "Agdam - a Ruined Memory" album on Facebook here -
http://www.facebook.com/album.php?aid=170942&id=176556846380
.
To stay in touch, you can also join our Official Today.Az Facebook page here -
http://www.facebook.com/#/pages/Baku-Azerbaijan/TodayAz-NEWS-AGENCY/176556846380?ref=sgm
Don't forget that you also have an opportunity to share something of your own with us, and the rest of the readers. Whether it's an interesting episode of your everyday life, some sort of art, glamorous photos, videos, bizarre – weird – breaking news, interesting interviews, your own written science fiction tale, a sad love story or even a poem – share with the rest & let yourself be known.
Editorial board reserves the right to publish your sent material, or skip it, based on our policies. When sending your material, please choose one of the following:
real life stories, own written story (fiction), photo-video, other
. Also, please provide the full name we should credit the material for, and a short description of the material itself.
All of the materials are to be sent here:
[email protected]
Send them out, "Your Corner" is waiting!
/Today.Az/
Related articles:
Your Corner: Armenian church in Baku vs the mosque in Agdam - VIDEO
Armenians search ruins of an "ancient Armenian city" in Agdam
Photo exhibition "Agdam – Caucasian Hiroshima and a Ghost town" launched in Baku
New website on Azerbaijani ghost city presented
"Agdam - Caucasian Hiroshima and a Ghost Town" exhibition to take place in Baku
Oscar production studio completes the shooting of a film about Azerbaijani city of Agdam
REAL-LIFE AZERBAIJANI GHOST TOWNS MARKED BY "WEBURBANIST"
Armenians destroy Azerbaijani cemetery in Agdam – PHOTOS