"Your Corner" is exactly what you think it is - your stories, pictures, art, and pretty much everything else you can share with the rest.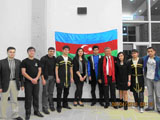 This particular "Your Corner" is about Korea. To be exact, about Azerbaijanis living in Korea. One of our readers, Adika, sent us a very interesting text she wrote, about her staying in Korea, her studies, and what she gone through while being there. Adika is a student of the KAIST( Korea Advance Institute of Science and Technology). This particular Azerbaijani "voice" might even give our readers a few advices, if they decide to visit Korea. Let's read.
One year before, when KAIST University professor Yong Sok O came to Azerbaijan, and chose 9 students for studying in KAIST, I turned to be one of them. Being selected from thousands of others really was a great feeling. I felt like the happiest person in the world, because I got a chance to study abroad, yet I did not even think I would meet so many difficulties there, and it would be hard for me to study in Korea, and live there.
Firstly, when I came here, I didnt know Korean language, and I thought I could explain myself in English, yet I was wrong. In Korea, very few Koreans use English outside of KAIST. It was tough for me at first, because whenever I went (shopping, restaurants, etc), nobody could understand me in English.
Korea Advanced Institute of Science &Technology is facing the increasing importance of demand for highly qualified scientists and engineers to support Korea's industrialization, following the implementation of economic development plans since 1962. No, it is the first research-oriented science and technology graduate school in Korea. Education in this university is in English. There are many American and Canadian professors. All professors treat students equitably. They recognize the individual differences that distinguish their students from one another and they take account for these differences in their practice. They respect the cultural and family differences students bring to their classroom.
There are 19 Azerbaijanis in my university. But also, there is one Azerbaijan family in Busan and many students in Seoul as well, and other cities of Korea also have Azeri students studying there.
Another difficulty I had, was with Korean food. Before coming here, I heard that Korean food was a lot different than Azerbaijani food, but I didnt hear them to be spicy. Majority of Korean food is really spicy. When I came here the first time, I tried to eat "kimchi". Maybe it was not such a wise choise - after that i couldnt eat any Korean food for some time. Couple of months later, I began to eat spicy food, and not so spicy as well.
Kimchi is a traditional fermented Korean dish, is made by fermenting seasoned cabbage and other vegetables. It is the worst meal of Korea for foreigners. Its super-spicy and smells really bad, but it has a very pleasing flavor and is also quite healthy. Kimchi is loaded with vitamins A, B, and C.
I was also homesick in Korea, since I didnt know anyone there, didnt have any friends. There was no one to hang out with, no one to share my difficulties with. I cried a lot, missed my family, my friends, and my country. I was not able to make friends with Koreans, since I thought Koreans did not like foreigners. It was not true, however. After some time has passed, i found lots of Korean friends, and I understood what stereotypes of Koreans were wrong.
There are many beautiful places in Korea, and lots of "familiar" restaurants. In Seoul, there are many Turkish restaurants, such as Pasha, Mr. Kebab, Sultan, Turkish Kebab House etc. In Daejon (city where KAIST is located), there are these types of restaurants as well. Sightseeing places include Gyeongbok Palace, Hangang Park, Korean Folk Village. There's also a Central Mosque in Seoul. It's located in Hannam-dong,Yongsan-gu.
Now, I can speak some Korean, and I am familliar with different kinds of Korean food. I know what its like to live abroad, without family, and I am lucky I was able to find new friends here, and also learn about new culture.
Adika
Korea Advanced Institute of Science &Technology
Daejeon, South Korea
Don't forget that you also have an opportunity to share something of your own with us, and the rest of the readers. Whether it's an interesting episode of your everyday life, some sort of art, glamorous photos, videos, bizarre – weird – breaking news, interesting interviews, your own written science fiction tale, a sad love story or even a poem – share with the rest & let yourself be known.
Editorial board reserves the right to publish your sent material, or skip it, based on our policies. When sending your material, please choose one of the following:
real life stories, own written story (fiction), photo-video, other
. Also, please provide the full name we should credit the material for, and a short description of the material itself.
All of the materials are to be sent here:
[email protected]
Send them out, "Your Corner" is waiting!
/Today.Az/