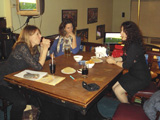 So, just as it was planned, another "InterNations" Baku meeting event was hosted yesterday, this time in Adam's Sports Bar, in the center of Azerbaijani capital. Since the last (first) event was attended by 11-12 people (instead of about 19),  organizer of the event, Sheila, was hoping for at least 30 to attend this time. 
You can check out the first meeting here:
http://www.today.az/news/yourcornenr/74371.html
I came early. About 30 minutes early, just to "check the place out". Ordered myself a pepsi, and sat down on the first floor. The second floor was empty, so I thought Sheila made arrangements for everyone who attends the event, to come upstairs. Since it was my first visit to this bar, I sat closer to the door, just in case no one comes at the scheduled time, I would just take off. The 1st floor of the place was crowded enough, and I enjoyed watching 2 girls playing pool in the middle of the room. Some foreigners were sitting nearby, drinking beer, and talking about something of their own.
Fortunately, Sheila did come at in about 15 minutes, along with a girl named Jessica, who, as I later found out, was from Venezuela. We went upstairs, and sat down. Sheila told me that tonight "we are expecting about 30 people, maybe more, even those who were not signed for attendance". I was hoping to see some familiar faces that I've seen at the last event. And I did. First one to come was Zulfiya, a local Azeri, who did attend the first event, but sadly we did not get a chance to talk, another one was Brian, who works for the construction company in Baku, and also Mary Beth, who works as a teacher, along with Sheila.
Suddenly the people started coming up the stairs rapidly. Like every 10 minutes or so.  To be honest, I was surprised to see so many different nationalities: there were people from Romania, Zimbabwe, USA, UK, Poland, Venezuela, Pakistan, Russia, Greece, Germany, Norway… And, I could find a single person who wasn't smiling. We introduced ourselves, and then people slowly started dividing into groups and went on talking. I enjoyed my group very much, and although I cannot call myself a bar regular, I'll make sure to attend the next event, if such will take place. This one was really great. Too bad I took less pictures than I thought I would. The ones I took are below, have a look.
T. Teymur
/Today.Az/
Click pictures to enlarge: