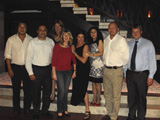 Now, before going through the details of yesterday event, I have to admit, I was lucky to discover the "InterNations" website online. Thanks to it, I let myself into a very sweet, simple social networking website, that specializes in foreigners and expats living in other countries. There, of course, was Azerbaijan as well. So, I registered. The first one I got into contact with was Sheila Burch, a teacher, working in International School of Azerbaijan. She informed me of a possible meeting of the foreigners in Baku, and a couple of months later I got the invite.
Did not really know what to expect, since I was not really an expat, yet still decided to attend, and meet some new faces. Something refreshing is always good. The Chinar restaurant looked very nice, I honestly havent been there ever since the locals reconstructed it. In fact, the only thing I knew, that it was a simple teahouse back in the day. So anyway, according to the InterNations website, the event was to be attended by 18 members, including me. As a result there were about 10-11. For the first time, it was not bad.
I, of course was interested in how foreigners live in Baku. I did not have enough time to talk with everyone, but it definitely seemed like there were not enough places in Baku, that foreigners can visit or go to.  Since there are not many english newspapers here (and those which are distributed for free, have minimum information, and maximum of advertising), most foreigners dont follow the news closely. They try to keep it simple. Maybe, that's the best way. We touched upon a number of topics, yet this first meeting was mostly about getting to know each other.
So, Chinar turned out to be a nicely decorated place, and by 9 o'clock, pretty much all the places there were occupied by mostly foreigners. I figured out this is the place they like to come in - servince is good, waiters know basic english, and the food is quite different from what you usually order in an Azeri restaurant (I had this great thai meat salad, turned out to be quite delicious, yet expensive).
Aside from me, there was another local woman, sadly I didnt get a chance to get acquainted with her. So, there were 2 teachers from International School of Azerbaijan, two men from BP, and two more work for the construction company. There was also a female photographer, who took some pictures for some local magazine publication. I was surprised anyone really knew about this meeting (since you have to be registered at the InterNations website to be able to see all the events, etc).
Overall, it was a very pleasant evening, and supposedly these kind of events are to be hosted once a month. Surely, I hope if its organized again, more people will come up, and spend some pleasant time among others. Pictures of the event are below.
T. Teymur
/Today.Az/
Click pictures to enlarge: