"Your Corner" is exactly what you think it is - your stories, pictures, art, and pretty much everything else you can share with the rest.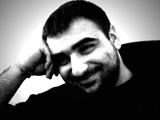 What we have below is an interesting encounter, that one of our Today.Az staff members had yesterday, and decided to write about it.
Another hot, boring day was over. When leaving the office, I was about to enter the elevator, I saw a redheaded guy coming right towards me. Needless to say, I was a little surprised, since I would not expect to see someone like him, especially after the busy work hours. He looked like a tourist, with a big cam hanging down his chest, and a shirt, saying "Kalashnikov" (for those of you who dont know, it's a USSR designed automatic weapon, most commonly known as AK47).
So, he comes out saying "Do you speak English?", to which I of course replied positively. Amos, that was the guy's name, told me that he was a photographer, and he wanted to know the way to the roof of the building, to get up there, and get some good shots. I told him to go around, and find some other spot, "since from here there's no way up".
I added, that if "he got caught...", which got him scared for a second or two. He said he had permission, then we both laughed. Being tired as hell, I dont quite remember how he got here from New Zealand, and what delegation he was with. What I do remember, as we were walking down the stairs, is that he was in Armenia, and he started asking questions. About what was going on between us, and even mentioned Nagorno-Karabakh conflict.
I wasn't really in the mood to be talking about this, yet I decided to. I told him a little about the war, about the ceasefire agreement, and a few other details. Also decided to tell him about the "Mubariz Ibrahimov case". To say he was shocked would be too easy. He was upset. Overall, we had a very nice conversation, and he said he liked the city (Baku) a lot, very beautiful, lots of things to photograph. On my part, I wished him the best, and of course to take the best pictures he could.
One thing for sure: Not everyday you dont get to meet guys from New Zealand in Baku, who roam the streets for photos, and asking about Nagorno-Karabakh conflict. Oh yes, and there probably are many many other ways to surprise a guy from New Zealand in Baku...
T. Teymur
Azerbaijan, Baku
Don't forget that you also have an opportunity to share something of your own with us, and the rest of the readers. Whether it's an interesting episode of your everyday life, some sort of art, glamorous photos, videos, bizarre – weird – breaking news, interesting interviews, your own written science fiction tale, a sad love story or even a poem – share with the rest & let yourself be known.
Editorial board reserves the right to publish your sent material, or skip it, based on our policies. When sending your material, please choose one of the following:
real life stories
,
own written story (fiction)
,
photo-video
,
other
. Also, please provide the full name we should credit the material for, and a short description of the material itself.
All of the materials are to be sent here:
[email protected]
Send them out, "Your Corner" is waiting!


/Today.Az/
More articles from this author:
Ron Smoorenburg: All the films I did later, none was as hard to do as the one with Jackie Chan - PHOTOS
Martial Arts superstar Loren Avedon talks about Azerbaijan, Quentin Tarantino, shares memories - PHOTOS
Lost Today.Az interview with the "Best Karate fighter in the U.S." - PHOTOS
First of its kind: Azerbaijani "Street Fighters" film hits the internet - PHOTO - VIDEO
Story of a man behind the mask, or someone who made Arnold Schwarzenegger run for his life... - PHOTOS
Former kickboxing champion, Hollywood actor Gary Daniels: I learned a lot from working with Stallone
Legendary martial arts actor Matthias Hues: When you start off at a young age, it becomes your second nature
Mehriban Efendi: Sometimes its not so important to know what an artist created, feeling it just might be enough
Today.Az reports from the animal protection event held near Baku Zoo - PHOTOS
Eurovision-2010: the afterwords
INVISIBLE PEOPLE OF AZERBAIJAN - PHOTOS
Cult actor James Gaines speaks about his "Philippino action" days, shares memories - PHOTOS
Cult Hollywood actor Vernon Wells: Schwarzenegger loved pulling pranks, he was like a big kid! - PHOTOS
Cult Hollywood director shares his memories with Today.Az
Silent beauty of the Baku's Mime Theater – PHOTOS
Jesse V. Johnson: I use real soldiers, real criminals, and real strippers in my films
Canadian conflict expert Scott Taylor: US House Committee may have inadvertently set the stage for next chapter of bloodshed to begin
Azerbaijani "2010 Sony World Photography Awards" photographer speaks with Today.Az
Jalal Merhi: I met David Carradine a few months before his death
World famous artist considers Azerbaijan as part of his motherland - PHOTOS
Hollywood Legend: My fight with Clint Eastwood was the longest two-man fight scene on screen
Canadian war journalist Scott Taylor: Armenia can't move on forward with closed borders - PHOTOS
Jerry Trimble: It was a pleasure to fight Tom Cruise - PHOTOS
Tim Abell: Most heroes and villains share many of the same qualities on the screen
Damian Chapa: Everyone asks me why I did a movie about Roman Polanski
"Queen of martial arts movies" Cynthia Rothrock: I didn't like karate, it was hard for me - PHOTOS