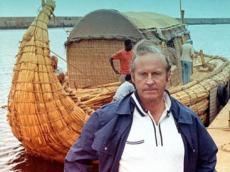 Thor Heyerdahl, World Citizen, Sails On Rene Wadlow.
Thor Heyerdahl, was a fellow world citizen and a friend.  We had worked closely together during the Geneva sessions of the United Nations Law of the Sea Conference which was held one year in New York and the next in Geneva.  The efforts to protect the seas from pollution owe him much. While the Convention on the Law of the Sea has not revolutionized world politics — as some of us hoped in the early 1970s — it is an important building block in the development of the rule of law. 
Thor Heyerdahl (1914-2002) was an anthropologist who wanted to demonstrate that migrations across the Pacific, the Atlantic and the Indian oceans had been possible in pre-historic times.  His epic 101 day-voyage from South America to Polynesia in the Pacific on the raft Kon-Tiki in 1947, as well as his writing skills, made him well known and respected even by other anthropologists who disputed his hypothesis of migration routes. 
Thor was always willing to explore new ideas, and he had a wide interest in many different cultures.  He was deeply convinced of the need for world law to protect the oceans and the need to show that people of different backgrounds could work together as world citizens for the common good.  He was a modest person but willing to use his fame to draw attention to important world problems. 
I knew him first in 1975 when he came to the UN in Geneva to speak on the growing dangers of ocean pollution. He had just finished one phase of his work on the settlement of Easter Island described in his book Aku Aku: The Secret of Easter Island. He had also tried to articulate the concept of world citizenship by bringing together a crew of people representing a diversity of nationalities, religions and political viewpoints to demonstrate that people could cooperate and live peacefully as world citizens.  Thor had a life-long interest in myths that he considered as both symbolic but also as containing elements of the historic record. 
His first symbolic world citizen voyage was in 1969 and again in 1970 when Heyerdahl built two boats from papyrus, both named Ra (the Egyptian sun god) on models from ancient Egypt.  The first Ra sunk in a storm in 1969, but Ra II in 1970 sailed from Morocco to Barbados, flying the flags of the seven crew members as well as two UN flags at the start and finish of his flag line — the UN flag being as close to a recognized symbol of world citizenship that we have.  As he wrote in The Ra Expeditions "If only the rumbling sea could speak. One thing is sure. It would have stories to tell about unrecorded voyages during antiquity that would match any of those duly recorded in the medieval age.  The medieval age was a step down, not up.  Men of antiquity show they were dynamic, imaginative, inquisitive, courageous, clever. Stronger than men of push-button times and with greater trust in their gods, yet filled with all the vanity, love, hate and desire embodied in the glands and nerves of men through all ages since Adam…Nobody will ever be able to retrace the routes of all these vessels or  reconstruct the interrelationships between all these diversified civilizations, intimately interlocked and yet clearly different as they were, partly imposed on earlier local cultures, and nourished by different lines of rulers, in different geographical environments." 
 We discussed together what was to be Heyerdahl's last reed boat adventure, again with people of different nationalities to symbolize world citizens working together.  However, I get sea sick easily, and the idea of six months on a raft was more than the symbolic actions I was prepared to undertake.  Heyerdahl built another reed boat, the Tigris, in Iraq, which was to demonstrate that trade and migration could have linked Mesopotamia with the Indus civilization in what is today Pakistan.  He and his crew of 11 of 9 nationalities, still with two UN flags, sailed through the Persian Gulf and back through the Red Sea for five months.  Then, as a symbolic gesture against the power of national governments to hinder the free flow of persons and against the arms trade, Thor set fire to the Tigris in the port of Djibouti on 3 April 1978.  He explained his action in an open letter to the then UN Secretary-General Kurt Waldheim "Today, we burn our proud ship to protest against inhuman elements in the world of 1978.  Now we are forced to stop at the entrance to the Red Sea. Surrounded by military airplanes and warships from the world's most civilized and developed nations, we have been denied permission by friendly governments for reasons of security, to land anywhere but in the tiny, and still neutral, Republic of Djibouti.  Elsewhere around us, brothers and neighbors are engaged in homicide with means made available to them by those who lead humanity on our joint road into the third millennium…Our planet is bigger than the reed bundles that have carried us across the seas, and yet small enough to run the same risks unless those of us still alive open our eyes and minds to the desperate need of intelligent collaboration to save ourselves and our common civilization from what we are about to convert into a sinking ship."
Thor set sail on a raft for the further shore of life in April 2002.  In the Buddhist writings, life is compared to a person wanting to cross a river on a raft.  The teachings of the Buddha are both the nature of the logs making up the raft as well as the knowledge of the poleman who controls the raft from the shore of life which is known to the other shore which is the start of territory as yet unknown.  For those still on this shore, we have the tasks of saving the oceans from pollution and showing that people of diverse backgrounds can cooperate together as world citizens. 
Rene Wadlow, President and Representative to the United Nations, Geneva, Association of World Citizens
Don't forget that you also have an opportunity to share something of your own with us, and the rest of the readers. Whether it's an interesting episode of your everyday life, some sort of art, glamorous photos, videos, bizarre – weird – breaking news, interesting interviews, your own written science fiction tale, a sad love story or even a poem – share with the rest & let yourself be known.
Editorial board reserves the right to publish your sent material, or skip it, based on our policies. When sending your material, please choose one of the following: real life stories, own written story (fiction), photo-video, other. Also, please provide the full name we should credit the material for, and a short description of the material itself.
All of the materials are to be sent here:
[email protected]
Send them out, "Your Corner" is waiting!