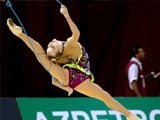 Azerbaijani gymnasts moved "from theory to practice' on the eve of the World Rhythmic Gymnastics Championship in Moscow. After two-months of training in Croatia, they traveled to Budapest to participate in the Garantika Cup, the Azerbaijani Gymnastics Federation reported.
Aliya Garayeva, Anna Gurbanova and Samira Mustafayeva took part in the tournament. Head Coach Dinara Gimatova told Trend that Garayeva took fourth in the all-round event. Gurbanova finished eighth overall and Mustafaeva finished eleventh, she added.
"This is no accident," Gimatova said. "As part of the training, we updated our performances by adding complexity and making them more feminine. We decided that we would try out these exercises in Hungary. Of course, not everything went perfectly. But we have an entire month and a couple more tournaments. I hope we will be in peak form by the time we get to Moscow."
/Trend/