"60,000-seat stadium will be built in Boyukshor settlement, Baku," Youth and Sport Minister Azad Rahimov said at the press conference.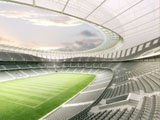 The minister found it hard to say when the construction will begin.
"A Pool Complex will also be constructed. There are small oil ponds in that territory, they are being dried up. I cannot say that the construction will begin next year," he said.
Rahimov said the stadium will be built by the State Oil Company of Azerbaijan Republic (SOCAR).
/
APA
/