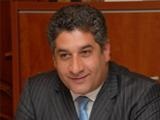 Azerbaijan is successfully implementing sport policy this year and 619 medals that the Azerbaijani athletes have won so far, testifies for it, Azerbaijani Youth and Sports Minister Azad Rahimov said at the annual awards ceremony today.
According to Rahimov, Azerbaijan will hold outstanding sport events, including the Youth Olympic Games and sport competitions among the Black Sea region's countries.
At present, a number of Olympic complexes are being built in the country, Rahimov added.
Araz club was awarded the best team of the year.
The best intellectual team of 2009 is the national chess team.
The best referee is Faiq Hasanov.
The Azerbaijan Gymnastics Federation is the best federation of 2009.
The best coach is Firdovsi Umudov (chief coach on freestyle wrestling).
Neftchi is the best sports organization of 2009.
/
Trend News
/