Azerbaijan's national volleyball team consisting of girls under 18 will take part in the championship of the Eastern Europe Zone Association (EEZA) in Latvia's Daugavpils, Azernews reports.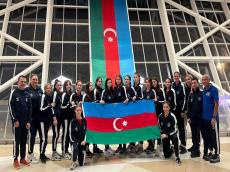 The team, led by Sahin Chatman, has travelled to Latvia to participate in the tournament.
The team will play its first game on 20 November against host nation Latvia. At the championship, which will last until 26 November, our girls will meet with the national teams of Georgia, Ukraine, Lithuania, Estonia, and Poland.
It should be noted that according to the regulations of the EURO 2024 qualifying tournament, the champion team will advance to the final stage of the continental championship.