The opening ceremony of "Sports Festival 2023" was held in Guba under the joint organisation of the Ministry of Youth and Sports and Baku City Ring Operating Company, Azernews reports.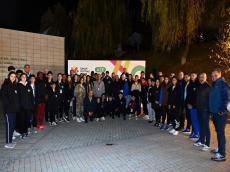 Deputy Head of the Sports Department of the Ministry of Youth and Sports Nijat Hasanov and Deputy Head Said Abasova attended the opening ceremony of the five-day event. The event was organised by the executive authority of Guba district.
168 athletes of 13-15 years old and 18 coaches took part in competitions in 23 kinds of sports. Athletes from Turkey and Kenya also take part in the festival.
First speaker Saida Abasova said purposeful and complex measures are implemented in Azerbaijan to ensure mass sports: "Olympic movement is successfully and rapidly developing in our country. The sports holiday, the second in number and the first held in Guba, is of great importance in terms of popularisation of various sports, awakening interest in sports among children and teenagers, effective organisation of their leisure time.
Azerbaijani sportsmen already represent us as a winning nation in foreign countries. It is very important for us that our youth grow up in a patriotic and healthy spirit and practice sports".
Nijat Hasanov also noted that athletes always feel the care of the state: "Athletes always feel the attention and care shown by the leadership of the country to the development of sports. This care is felt by the conditions created for those working in the field of sports, large-scale competitions held in our country, representation of our athletes in international arenas and many other factors. The Ministry of Youth and Sports implements various measures to ensure the popularity of sports and raise the professional level of the athletes".
Entertaining and educational activities and master classes were then organised for the athletes. During this time, various types of dances, military-patriotic training, intellectual games, first aid, film screenings and official meetings were held. An excursion to Guba was also organised. Today and on November 19, the athletes will perform exemplary numbers on a stage set up in Nizami Park in the city centre. In some sports, spectators will also take part in the performances.
It should be noted that the first festival was held in Sheki in 2022. 149 athletes and 35 coaches took part in 23 sports.