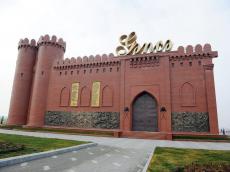 Azerbaijan's Ganja city has been chosen as the Sports Capital of the CIS 2025.
The Azerbaijan Minister of Youth and Sports Farid Gayibov said that the decision was announced at the meeting of the Physical Education and Sports Council of the CIS held in Minsk, Azernews reports citing Azertag.
Note that Azerbaijan will host the III CIS Games in 2025.
At CIS Games 2023, the national team brought home a total of 62 medals including 11 medals won by karate fighters.
The judokas won 9 medals, while freestyle wrestlers grabbed 6 medals. Leyli Aliyeva and Dadash Dadashbayli became champions in shooting and weightlifting, Greco-Roman wrestlers won nine medals. The boxers brought home 10 medals, 9 medals were won in Muay Thai.
Rhythmic gymnastics captured 3 bronze medals, while women's wrestlers won 2 bronze and sambo wrestlers claimed another bronze medal.
Around 4,000 sportsmen from 24 countries took part in the 2nd CIS Games. The sportsmen competed for 1,672 sets of medals in 21 sports.
Competitions were held in order to strengthen friendship between the countries of the Commonwealth of Independent States and to implement an agreement on cooperation in the field of physical education and sports.