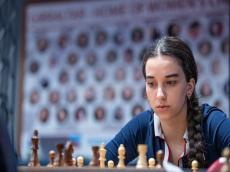 Azerbaijani chess player Gunay Mammadzade has won a bronze medal at FIDE World Rapid Team Championship held in Dusseldorf, Germany.
Mammadzade is a member of the Indian "Team MGD1" club, which finished third with 18 points in the competition, Azernews reports.
As part of "Team MGD1" Mammadzade scored 3 points in 4 games.
The first two places in the world championship were taken by the teams "WR Chess" (22 points) and "Freedom" (20 points).
Note that Azerbaijani chess player holds the titles of International Master (IM) and Woman Grandmaster (WGM) through the International Chess Federation (FIDE). She is a two-time Azerbaijani women's national champion, which she achieved in 2017 and 2019.
The chess player has represented Azerbaijan at the Chess Olympiad, the World Team Chess Championship, and the European Team Chess Championship, winning both team and individual bronze medals at the latter in 2019. Mammadzada has a peak FIDE rating of 2483 and has been ranked as high as No. 18 in the world among women.
The FIDE World Rapid Team Championship is a team tournament in chess, played under rapid time controls and organized by the International Chess Federation (FIDE) in collaboration with WR Logistics GmbH.
The FIDE World Rapid Team Championship follows the Swiss system with 12 rounds. The tournament rules ensure inclusivity, diversity, and fair representation by requiring each team to include at least one female player, and at least one player in each team, who has not achieved a FIDE Standard, Rapid, or Blitz Rating of 2000 Elo points or be unrated.