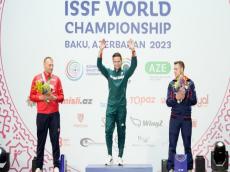 "Every time I visit Baku, I see a beautiful and developing city," said Hungarian athlete Istvan Peni, who won the gold medal in 300m rifle shooting at the ISSF World Championship held in Baku, Azernews reports.
The 26-year-old athlete spoke about his impressions of the capital of Azerbaijan and the Baku Shooting Center: "I first visited Baku in 2015. The only thing you can't get used to is frequent winds. But this is normal, because Baku is a city of winds. Baku every time is changing."
The Hungarian athlete also noted the work of the Azerbaijan Shooting Federation: "Thanks to the created shooting center, a lot has been done for the development of this sport. The organization of such competitions is evidence of this."
After the awards ceremony, the athlete spoke about his impressions of the competition: "Shooting from a rifle at a distance of 300 meters is a very difficult sport. In our sport, the rifle is heavy, which creates certain difficulties. I am happy that I won. At the championship in 2018, I won a silver medal, and at last year's event, which was held in Egypt, I won a bronze medal. Finally, in Baku, I won a gold medal. Now there is a set of medals in my collection."
The Hungarian shooter told what made him choose this sport: "I participated in shooting at a distance of 10, 25 and 50 meters. In general, shooting is my life. Holding a weapon, handling it, inhaling the smell of gunpowder - all this is stimulus and entertainment for me."
Istvan Peni became the world champion, gaining 587 points.