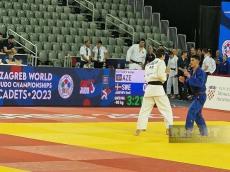 Today, the world junior judo championship held in Croatia will be concluded.
The Azerbaijani national team will face Greece in the 1/8 final stage.
It should be noted that the team finished the individual competition on the first place in the medal ranking. Nihad Mamishov (50 kg), Khadija Gadashova (52 kg) gold, Mahammad Mamishov (50 kg), Mahammad Musayev (60 kg), Abil Yusubov (66 kg) silver, Mirkhalig Iskanderov (55 kg), Suleyman Shukurov (73 kg) and Ramazan Ahmadov (90+) won bronze medals.
Moreover, an inter-team competition will take place on the last day.