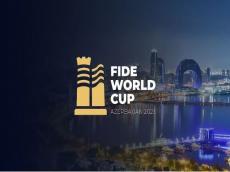 The first matches of the semifinals in the men's section, the final match and the third place match in the women's section are taking place at the World Chess Cup in Baku on August 19, Azernews reports.
Magnus Carlsen (Norway) is the opponent of Azerbaijani chess player Nijat Abasov in the semifinals. Today Abasov will play with black figures.
The starting list of the World Chess Cup of the International Chess Federation (FIDE) in Baku included 206 chess players in the open section and 103 in the women's section.
For the second time, Azerbaijan is hosting the Chess World Cup. For the first time, the top three competitors from the open and women's categories will earn a spot in the 2024 Men's Candidates Tournament and Women's Candidates Tournament, respectively.
On the competition's official website, matches from the FIDE World Cup 2023 are broadcast in both Azerbaijani and English.
Up through August 25th, competitions will be held. The winning prize stands at $2.5 million.
The World Chess Cup is being held at Marriott Boulevard in Baku.
Azerbaijan is represented by a team of 17 chess players, including Shahriyar Mammadyarov, Teymur Rajabov, Gunay Mammadzade, Rauf Mammadov, Gadir Huseynov, Vasif Durarbayli, Nijat Abbasov, Abdulla Gadimbayli, Misratdin Isgandarov, Muhammad Muradli, Vugar Asadli, Riad Samadov, Aydin Suleymanli, Ulviyya Fataliyeva, Gulnar Mammadova, Khanim Balajayeva, and Govhar Beydullayeva.