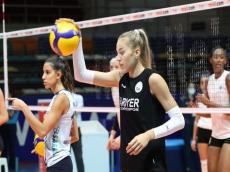 "Everything has been worked out to the smallest detail so that the players are fully formed and we are properly adapted to each other," Azernews reports.
Member of the Azerbaijan national volleyball team Nikalina Bashnakova said this in a statement to the press service of the Federation.
The 25-year-old striker praised the work of the coaching staff: "Before the preliminary preparation for the European Championship, i.e. before the training camp in Baku, all players of our national team diligently engaged in physical exercises based on the fitness program defined by the coaches. Then we started serious training in the hall. All this contributes to the development of our team's game plan and tactics."
Bashnakova believes that the test matches will help them during the continental championship: "The test games allow us to identify our strengths and weaknesses, as well as work on our mistakes. Our team training continues in full swing. This will help us to achieve our goal, i.e. to perform worthily at the European Championship".
The European Championship will be hosted by Belgium, Italy, Germany, and Estonia from 15 August to 3 September. The Azerbaijani national team will play in Group C together with the Czech Republic, Germany, Greece, Sweden, and Turkiye.