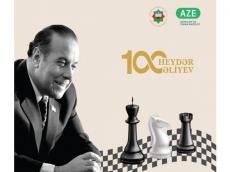 By Azernews 
Baku Crystal Hall will host Baku Open 2023 International Chess Festival on May 4-12.
The chess festival is timed to the 100th anniversary of Azerbaijan's national leader Heydar Aliyev, Azernews reports.
Competitions are divided into three groups (A, B and C) in accordance with the rating of the participants. All three groups will go through 9 rounds of the Swiss system.
The total prize fund of the tournament is $ 55, 000. The best chess player in Group A will be awarded a cup and a financial prize of $12,000.
The winners of all ages in Group C will then take part in the European Youth Championships in Romania.
The first round of the competition is scheduled for May 4 at 14:30.
It is of note that Azerbaijani President Ilham Aliyev declared 2023 as the Year of Heydar Aliyev in Azerbaijan.
10 May 2023 will mark the 100th birth anniversary of Heydar Aliyev, the national leader of the Azerbaijani people and the founder of the independent Azerbaijani state.
2022 went down in the history of Azerbaijan as the Year of Shusha. The country's cultural capital turned 270 last year.