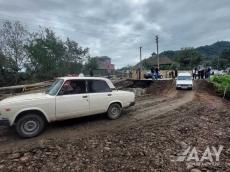 Motor transport movement has been restored in the area where there is a bridge damaged by flood waters caused by heavy rains in Astara district, Azernews reports, citing AAYDA.
Thus, the bridge, 8 meters long, is located at the 1st kilometer of the Pensar-Toradi road. As a result of the disaster, road traffic was restricted.
As soon as information about the problems was received, special equipment and manpower of the State Road Agency of Azerbaijan were immediately mobilized to the site. Within a short time, a temporary footpath was opened on the damaged bridge.
Later, the construction of an alternative road for motor transport was started. For this purpose, special pipes were brought to the area. As a result of the urgent measures taken, a new road section was constructed for motor traffic in the said area.
It should be noted that work continues in Astara district to ensure continuity and safety of traffic and to restore road facilities on other roads caused by flood waters.