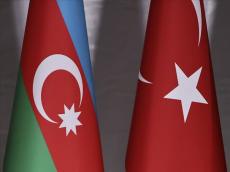 By News Centre
Azerbaijan and Turkiye coordinate issues of mutual interest in all directions, including in the diplomatic field, and take steps in accordance with each other's interests. This manifests itself more prominently in regional issues, which are quite sensitive at the moment.
The behind-the-scenes issue of the telephone conversation between Turkish President Recep Tayyip Erdogan and Armenian Prime Minister Nikol Pashinyan once again confirms how well-founded the Azerbaijan-Turkiye brotherhood is.
According to the information obtained from diplomatic sources, during the last three days, the office of the Prime Minister of Armenia made serious efforts for a telephone conversation between Pashinyan and Erdogan.
The Turkish side appealed to the Azerbaijani side in accordance with fraternal relations, during the telephone conversation between President Ilham Aliyev and Turkish leader Erdogan, this point was discussed, along with other issues, and Azerbaijan's position was studied.
As always, the leadership of Azerbaijan showed constructiveness and openness to dialogue and did not object to the contact between the leaders of Turkiye and Armenia.
With this step, Turkiye has demonstrated that it attaches great importance to fraternal relations and deeply respects the interests of Azerbaijan.
The obtained information also stated that the normalization of Turkish-Armenian relations should be carried out parallel and synchronously with the process of normalizing Azerbaijan-Armenian relations. Azerbaijan and Turkiye have a common position on this issue. Armenia should also understand that the problems of the region can be solved only with the countries of the region. It is impossible to achieve any result by making trips outside the region, addressing appeals, calling the leaders of individual countries and establishing reconciliation. For this, the 3+3 format offered by Azerbaijan is the most acceptable platform, and it is necessary to try to solve the issues in this framework.