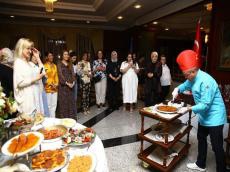 Iinitiated by the Turkish President Recep Tayyip Erdogan's wife Amina Erdogan and celebrated by the Turkish Ministry of Culture and Tourism on May 21-27 worldwide, an event was held at the Embassy of Turkiye in Azerbaijan as part of the "Turkish Cuisine Week".
According to Azernews, the event hosted by Ambassador Cahit Bagchi's wife, Leyla Bagchi, was attended by the wives of the heads of diplomatic missions in Azerbaijan.
At the event, the guests were served food and refreshments from Hatay cuisine, such as bread with pepper, tepsi kebab, eggplant kebab, hummus and kunafa.
Ambassador's spouse Leyla Ba?c?, who informed the guests about the history, culture and traditional food culture of Hatay, noted that during the preparation of food, they implemented the "Zero Waste Project" implemented under the special attention of the first lady of Turkiye, Emina Erdogan, and will implement this project in their homes and private businesses from now on.
Leyla Ba?c? recalled the heaviest earthquake that hit Turkiye on February 6.
"Hatay region is one of our regions that experienced these great devastations, and today we wanted to show Hatay cuisine in this event. The city of cultures, the special and beautiful ancient cuisine of Hatay and we served delicious food to our guests. Hopefully, our country will overcome the hardships of this earthquake as soon as possible and stand up again," she said.