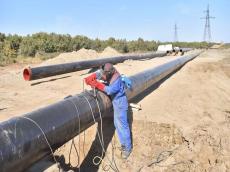 Work will begin on replacing the emergency 76-kilometer section of Azerbaijan's Kura-Baku main water pipeline from the end of 2023, Spokesman for Azersu OJSC (responsible for providing all the water and sewerage related services across Azerbaijan) Anar Jabrayilli said, Azernews reports citing Trend.
According to the spokesman, by order of President Ilham Aliyev, a seawater desalination plant will be built in the country's village of Alyat.
"This water will also flow to Baku via the main pipeline," Jabrayilli said.
Earlier, a briefing was held at Azersu OJSC. At this briefing it was said that the country is experiencing a serious reduction in fresh water reserves.
According to the decision of the chairman of Azerbaijan State Water Resources Agency, an action plan was developed. In accordance with the plan, special groups have been created for each district, which began their activities on May 1. In turn, these groups conduct monitoring at factories and other facilities, as well as investigate the facts of uncontrolled and illegal use of water.
Azersu OJSC was established by the order of President of the Republic of Azerbaijan Ilham Aliyev dated June 11, 2004.