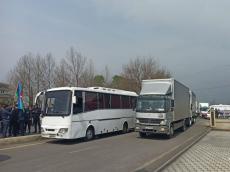 By Azernews
Qabil Ashirov
The families who will be resettled in the first phase of the Great Return program to Talish village which had been liberated from the Armenian occupation in Tartar district, have left for the village, Azernews reports.
A total of former 20 IDP families (90 people) living in temporary settlements in Baku, Barda, Tartar, Samukh, and Goranboy, mostly in dire conditions, are returning to their ancestral homeland on the eve of the Nowruz holiday.
We should note that the Azerbaijani government has completed the first stage of restoration and construction works in Talish village. The Production Union of Azerigas built an 11.1-kilometer-long underground polyethylene gas line to the village. Also, at the meeting with the residents who will move to Talish village, a ceremony for choosing houses based on a casting draw will be held. At the meeting, contracts were also concluded between the employer and the employed regarding the employment of the population.
Armenians occupied the village second time in April 1994, after had been liberated in July 1992. On April 2, 2016, the strategic heights around the village of Talish were fully de-occupied from Armenians. The village was liberated from occupation on October 3, 2020.