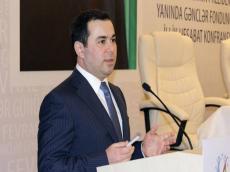 Fatima Hasanova


Azerbaijani Deputy Minister of Youth and Sports Farhad Hajiyev spoke about the contribution of national leader Heydar Aliyev to youth policy, Azernews reports.
"The ideological foundations of youth policy in Azerbaijan were laid by national leader Heydar Aliyev," said Hajiyev at the hearings in the Azerbaijani parliament on the topic of Heydar Aliyev - founder of modern Azerbaijani youth policy.
He stated that the Ministry of Youth and Sports was one of the key organizations Heydar Aliyev established after his return to power in Azerbaijan for the second time.
"The importance of this establishment was particularly noted during the Second Karabakh War. The main purpose of the establishment of the ministry was to educate the young generation to be loyal to their homeland and the state," the deputy minister added.
He stressed that Azerbaijani President Ilham Aliyev is successfully continuing the policy laid down by his father.
"President Ilham Aliyev is continuing successful youth policy. After 2003, the infrastructure of youth policy began to be established in Azerbaijan. The creation of a youth foundation, the Youth and Sports Committee under the Milli Majlis (Parliament), and a comprehensive sports infrastructure make it possible to educate healthy young people in Azerbaijan. The Azerbaijani state stands behind its youth," Hajiyev concluded.
Azerbaijan annually celebrates National Youth Day on February 2. The public holiday takes its origin from the First Youth Forum held in 1996. A year later, national leader Heydar Aliyev signed a decree according to which February 2 was declared the Day of Azerbaijani Youth. From that time Azerbaijan became the first country among the CIS and Eastern Europe states to solemnly celebrate this day.