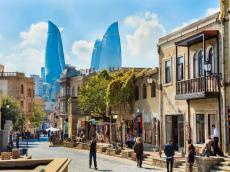 The Azerbaijani State Tourism Agency is seeking to ensure intensive and dynamic tourism development in the country, Azernews reports.
The agency is committed to working with tourism councils in promoting Azerbaijan's tourism potential at the international market.
Tourism Councils
The State Tourism Agency plans to create at least two tourism councils for "strengthening strategic, institutional and financial mechanisms to ensure the sustainable development of the tourism sector", Azernews reports, citing Azertag.
Tourism councils will be established within Azerbaijan's Strategy for Socio-Economic Development for 2022-2026.
The main goal of regional tourism councils is to create a mechanism for coordinating the activities in the tourism industry through dialogue, coordinating all parties, who are engaged in tourism development at the regional level.
Currently, work is underway on a draft regulatory document on exemplary regulations on the regional tourism council establishment.
Work on the project will immediately start after the adoption of the regulatory document.
Azerbaijan's promotion in the international tourism market
The agency strives to actively promote Azerbaijani tourism not only in European countries like Germany, Austria, Switzerland, Poland, and Britain but also in South and Central Asia as well as in the Middle East.
In its statement, the State Tourism Agency also highlighted the work of the "Azerbaijan. Travel" visitor center, operating in Tbilisi since 2019. The center provides information about tours and trips to Azerbaijan.
The State Tourism Agency recalled the opening of Trade and Tourism Representative Offices in Tel Aviv last year.
Co-chairs of the Israeli-Azerbaijani Joint Intergovernmental Commission, Azerbaijani Economy Minister Mikayil Jabbarov and Minister of Tourism of Israel Yoel Razvozov, members of the Azerbaijani delegation, Israeli officials, and business representatives attended the event.
In his speech, Mikayil Jabbarov expressed his confidence that Trade and Tourism Representative Offices in Israel would play an important role in the development of bilateral trade and strengthening economic ties.
The economy minister called on Israeli businessmen to take advantage of the favorable business and investment climate in Azerbaijan, adding that the two countries had great potential for expanding bilateral cooperation in such areas as energy, health, digitalization, investment, innovation, ICT, agriculture, water management, and tourism.
Hotel star rating in Azerbaijan
The State Tourism Agency touched upon the hotel star ranting. Since the launch of the hotel star ranking in Azerbaijan, 44 hotels out of 150 have received 5, 4, and 3 stars.
The hotels are regularly monitored and a report on the condition of the hotel is submitted weekly. During the National Star Hotel Rating, the hotel's service level is also evaluated through "TrustYou" guest feedback platform.
This requires constant improvement of the service level. If the hotel does not meet these requirements, the stars can be canceled.
Apart from that, the State Tourism Agency holds regular meetings with hotels operating without star certification.
The agency informs hotel workers in detail about National Star Hotel Rating and the advantages created by the star classification for hotels.