An earthquake happened in Armenia at about 19:31 the day before yesterday.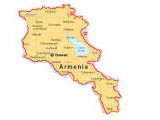 As APA reports, the magnitude of the earthquake was 4 in the epicenter – to the south-east from the Sevan Lake. Earthquake shocks were felt in Basarkecher city situated 15 kilometers far from the epicenter and neighboring villages. No human loss and destructions were registered.
It should be noted that the earthquake of magnitude of 5 also happened at the territory of Siazan region of Azerbaijan at 05:49 on February 4.