Five musical collectives removed from "AzTV" Closed Joint-Stock Company were restored by the decision of the Cabinet of Ministers.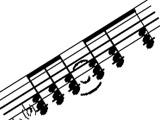 As APA reports, Nariman Azimov, art director of Popular Instrumental Orchestra named after Said Rustamov told: "Without taking into account the opinion of the collective, it was given to the Ministry of Culture by the end of last year. But we didn't agree with this decision. As a result of dissatisfaction, Cabinet of Ministers held a meeting and took our opinion into account. We have already been restored to our previous place".
N.Azimov says the collectives are looking forward to the decision of the head of "AzTV", Nizami Khudiyev: "Nizami Khudiyev's decision is necessary for the collectives to start activities".
It should be noted that, the collectives restored to AzTV are: Popular Instrumental Orchestra named after Said Rustamov, Chorus Orchestra, Symphony Orchestra, and Variety Show Orchestra and "Banovsha" Band.