Secretary General of the World Customs Organizations held press conference.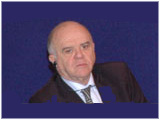 Preventing the use of the Azerbaijan occupied areas as the transit route of drugs may be solved only at the heads of states level, Secretary General of the World Customs Organizations Michel Danet said in a statement during the news conference dedicated to the results of the Heads of the World Customs Organization European Region Conference, Trend reports.
"Everybody knows that smuggling and illegal operations are successfully performed in those places, where there is no due customs control. The situation refers also to the occupied areas of Nagorny Karabakh," Danet summarized.
The head of the Azerbaijan State Customs Committee Kamaleddin Heydarov noted, according to the information available, there are special laboratories on these areas for producing narcotic substances and this fact has been emphasized not once both by the country's government and the WCO authorities. "It is a large drug centre, supplying various countries by these substances," the WCO head underlined.
Touching upon the issue of the peacekeeping forces deployment, Heydarov noted, it is unreal from the logical standpoint for the peacekeeping forces to be able to control production of narcotic substances in these areas simultaneously with their current tasks. He believes, the issue may be resolved only by liberation of these areas from the occupation, where the situation will be kept under the control of the customs bodies of the independent state.