Yesterday protest action was organized in Nardaran settlement with regard to the recent incident which killed two policemen, one resident of Nardaran and injured two residents.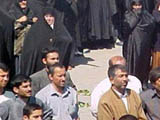 According to APA, Nardaran resident Haji Ali Huseynov accused the policemen of provoking the incident. The resident of the settlement demanded conducting fair investigation of the case. Other resident of the settlement Karbalayi Abdualla said of the killed villager Ramiz Hasanov to be innocent. Haji Natig also stated that, he has applied to the head of state for commenting the event on behalf of Nardaran residents: "We ask the President to receive some elderly people of Nardaran. We'll inform the head of state about the details of the incident."
Alimammad Azimov, father of villager Hasan Azimov who was wounded during the incident said that his son is tortured in the medical station of the detention place. According to A.Azimov, he is made to acknowledge false testimonies. A.Azimov stressed that, he has applied to the President in this connection. It was concluded in the protest that, the date of the next protest action will be fixed depending on the address to the head of state.