"580 crimes, committed by teenagers, were registered over last years," Oruj Zalov, the deputy Minsiter of Internal Affairs, said to journalists.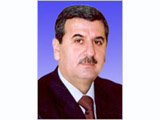 "8 facts related to teenagers, including, 3 facts of human traffic, were recorded during 2005. Necessary measures are taken to prevent similar crimes," Zalov stressed, Trend news agency informs.
According to Zalov, they found 1,000 children and handed over them to parents, held preventive talks with over 3,000 children. "We established close relations with the CIS countries to ensure research of teenagers. In 2005 we brought 12 children from different countries and returned them to their parents to place at boarding schools. The same number of foreign children were revealed at the territory of our country and repatriated," Zalov underlined.