No investigative action is taken about Nureddin Zulfugarli, chief of Managing Staff of "Bakuelectrosshtamp" and "Bakupoladtokme" Open Joint-Stock Companies (OJSC) and his brother Loghman Zulfugarli.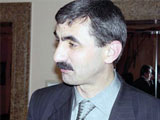 APA was informed by the lawyer Aslan Ismayilov who met with Zulfugarli brothers in the Bayilov jail #1 that L.Zulgugarli who is detained in medical station of the jail feels worse day by day.
L.Zulfugarli suffers from pains in his heart, stomach and nervous disorder. The appeal for substituting the arrest measure on him is not responded positively: "He is in bad health now. I have submitted the opinions of the doctors of the jail and other medical experts to the investigation. The opinions confirm that, L.Zulfugarli is in bad health and the detention conditions endanger his life."
Zulfugarli brothers were detained on December 9 last year. They were imprisoned for 3-month period.