On Tuesday the Azerbaijani Justice Ministry and the International Committee of Red Cross held an event at specialized hospital 3 for TB-diseased prisoners under the Central Department of Execution of Court Sentences with participation of Ambassadors of the Unites States, Turkey and other countries, as well as Mahmud Guliyev, the Deputy Foreign Minister, Trend reports.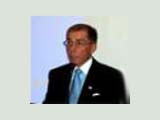 Nizamy Guliyev, the chief of the hospital, noted that there were kept 920 prisoners, including 5 women. According to Guliyev, the hospital consisted of divisions for TB-diseased women and TB-diseased prisoners entered from prisons, and closed division for prisoners under investigation and under general arrest.
Ilyas Sultanov, the head physician, informed the participants of the event that around 35 patients entered per week. The patients are examined by the special commission. There are no underage TB-diseased prisoners at hospital.
The Ambassadors and journalists got familiar with dining room, laboratory, and wards. Guliyev informed them about repair work done at the hospital. The guests left for Explorer Hotel to participate in the conference dedicated to the 10th anniversary of the struggle with the tuberculosis.
Trend