Bus following route Baku - Dagestan suddenly was caught on fire at 1 a.m. on November 30.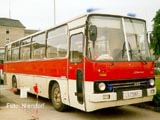 The accident happened when "Ikarus" with state number- B 519 KB RUS was passing 145 kilometer of Baku-Rostov highway near the Valvala village of Guba district at 1 a.m.
The bus driver and 38 women - Russian citizens escaped from the burning bus, however they did not manage to save their belongigns and luggage. The fire started at the end of the bus -in the engine section and rapidly caught on fire the whole bus.
Inhabitants of Valvala village helped to extinguish fire until firefighters arrived. No passenger was hurt or injured.
The bus and all passengers' luggage amounting $2000 were lost in fire. Villages hosted some passengers through the night in their houses but some had to spend the night on the open air.
APA