Five foreigners attempting to leave Azerbaijan for Turkey using falsified passports were detained today.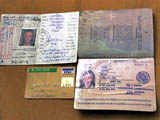 According to the press center of the State Frontier Service, Khalikova Nilufer Khumayovna (born in 1970), Mamasanova Gumagil Yuldashovna (born in 1962), Tochiyeva Nargiza Sadigovna (born in 1978), Salimova Nadira Dursunaliyeva (born in 1985) and Dekhnolova Nargiz Makhamadjanovna (born in 1988) introducing themselves as Kyrgyz citizens tried to board Baku-Ankara flight at about 9:30 a.m today and were detained and interrogated.
The interrogation showed their passports to be false and them to be Uzbekistani citizens with false Kyrgyz passports that they bought at a market in Uzbekistan for $100-250.
The detained women intended to migrate to European countries.
APA