"President of Azerbaijan will not be able to take part in the grand closing ceremony of the Year of Azerbaijan in Russia due to his intensive schedule," told Trend the Ambassador of Azerbaijan to Russia Ramiz Rizayev.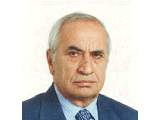 According to Rizayev, the grand ceremony is preliminarily set for December 17 in Moscow. It has not been defined yet, who will head the Azerbaijan's governmental delegation at these events, however the ambassador hinted that the decision will be taken by the President himself.
Preparation for these festivities is currently underway. Unveiling of the monument to the national leader of Azerbaijan, the former President Heydar Aliyev will be timed to the official closing of the Year of Azerbaijan in Russia, the Ambassador said. According to him, the monument will be erected on one of the Moscow's eminent places, close to the "Aeroport" subway station, in the garden, adjoining the Samed Vurgun street, in the vicinity of "Baku" movie theater. The authors of the monument are well-known sculptors from Azerbaijan and Russia – Aliyev and Sherbakov.
Trend