Deputy of Health Minister, Abbas Valibayov denies that the Minister Ogtay Shiraliyev implements cleansing policy in the Ministry.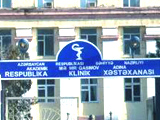 "Information that persons from Armenia by origin are being dismissed and oppressed is not true. I do not know where this nonsense comes from," stated the Deputy of Health Minister, Abbas Valibayov. The statement was made as a comment on gossips that the newly appointed Minister of Health Ogtay Shiraliyev is implementing cleansing policy in the ministry aimed against Azeries with Armenian origins.
The deputy minister said that, head physician of the City Clinical Hospital #1 Panah Aliyev was not dismissed and still works at the same place. "Vagif Jafarov, head physician of Mirgadirov Republican Clinical Hospital was not discharged by the Health Minister but he quited on his own," said Valibayov.
Valibayov noted that he does not understand the reason of a such huge concern of media about the dismissals of the head physicians from their work. The deputy of the minister also noted that a board meeting of the Ministry of Health will soon adopt a program on changes in the health system of Azerbaijan.
EV