Chief Lieutenant of Armed Forces of Azerbaijan Ramil Safarov who killed Armenian officer Gurgen Merkaryan in Hungary repeated medical examination today.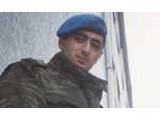 APA was informed by the Azerbaijani officer's mother Nubar Safarova that her son phoned home today, stating that he underwent the examination and experts will process results in several days.
It must be noted that, this is the third examination the Azerbaijani officer has underwent so far.
APA