Two experts of the World Health Organization (WHO) on the pharmacology program – Iuze Prokhorska and Mina Slutnikova will visit Azerbaijan on December 12.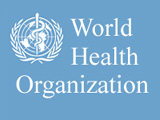 According to the head of the WHO representation in Azerbaijan Farman Abdullayev the goal of the visit of the experts that will stay in Azerbaijan till December 14 is to discuss the results of the 2-year cooperation between the structure and Azerbaijan on the pharmacology program.
The guests are expected to meet with the Minister of Health Ogtay Shiraliyev, his deputies and other persons.
APA