The agency Trend reports, the chairman of the state committee on statistics Arif Veliyev informed 22 April.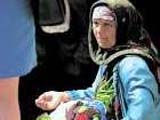 He said the prediction on percentage of poverty was published in the beginning of the year, this indicator was 40%. But presently this figure is 33,1%.
Veliyev also informed, for this period incomes less than 185 thousand manats are in poverty level. " Certainly, salaries of population also influence, for three months period the salary is increased by 22,8 % and it was 439 thousand manats. Besides, salary of the wage laborers is increased by 22,8 %.
Volume of the growth of production GDP in average per each person over the Republic is increased by 3 mln manats and it was $264,4. Besides, incomes of each citizen of the republic reached 983,9 thousand manats, its growth was 22,9%. 75% of monetary expenses from this amount fall on purchase of consumer products and services. This indicator is less by 1.8% comparing with last year.
"Decrease of volume of purchase of consumer products indicates finances are directed for accumulation"-Veliyev indicated.