According to the information for 1 April, the number of population of the country reached to 8 million 367 thousand people. In the first three months of this year, the population increased 19.7 thousand people or 0.24%.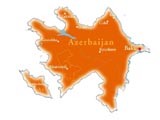 4 million 308 thousand (51.5%) of the population live in the cities, but 4 million 59 thousand (51%) in the villages. 4 million 113 thousand of them (49%) are males and 4 million 254 thousand (51%) are females.
Currently 1034 females fall to the share of every 1000 males. 26% of the population is 0-14 years old, 67% 15-64 years old, 7% 65 and older. 29% of the population of the country is youth in the age of 18-34. More than half of them live in the city. Middle age range of population in Azerbaijan is 31, but longevity 72.4 (males-69.6; females-75.2). During the first quarter of this year 34 babies were born.
According to the information given to APA from State Statistics Committee, on average, two babies fall to the share of one woman during all her life. The range of death in the last ten years decreased in the republic and remains constant. Till 1 April since the beginning of the year, 14.2 thousand deaths have been registered.
In the first three months 14.5 thousand marriages and 1.7 thousand divorces were registered in Azerbaijan. In contrast with January-march months of the last year the number of marriages for every 1000 people increased, but the divorces remained in the previous level.
/APA/