Mugham is a bright monument of the cultural-spiritual heritage of the Azerbaijani people.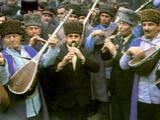 One cannot imagine the music of Azerbaijan without mugham established on the philosophical-literary ground. Being an internal part of the classic literary samples, mugham appeared as a synthetic art, which has played great role in development of the Azerbaijani music.
Aspired by mughams, the composers of Azerbaijan have created much symphonic music. Not occasionally that the symphonic mughams of the Azerbaijani composers are interestingly welcomed throughout the world. Entering of the Azerbaijani mugham to the UNESCO World Heritage List along with the pearls of the world culture confirms how unique art is the Azerbaijani mugham.
With a view of improvement of propaganda and research of the art of mugham in Azerbaijan, and also to raise care to this art, I, hereby, resolve:
1. The Center of Mugham shall be created in Baku.
2. The Baku Executive Power within 10 days shall submit its proposals related to plot for construction of the Mugham Center and submit to the President of Azerbaijan Republic.
3. Cabinet of Ministers of the Azerbaijan Republic shall implement other questions resulting from this Order.
Ilham Aliyev,
President of the Republic of Azerbaijan
Baku, April 6, 2005