International jazz festival "Baku Jazz-2005" organized by the Azerbaijani Culture Friends Foundation, Ministry of Culture, Sports and Tourism, "Azeurotel" joint venture will be held in Baku from 5 to 12 April.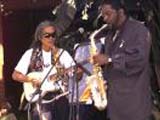 On this occasion, a press conference took place in the Baku Jazz Center. Chairman of the steering committee Nuru Ahmadov, committee members Tamilla Nagiyeva, Rain Sultanov, Jahangir Salimkhanov, Oyram Rustamzade gave detailed answers to the reporters. Development of jazz in Azerbaijan dates back to 30s of the last century. It was developed by Niyazi, Gara Garayev, Tofig Guliyev and, of course, Vagif Mustafazade.
Since 60s last century Baku has hosted some jazz festivals. International festival 2005 is initiated by the Baku Jazz Center. The festival will gather famous jazzmen Joe Zavinul and his "Syndicate", trio of Christoph Busse (Germany) and other musicians from USA, France, India, Turkey, and Russia.
A final gala-concert will take place on April 11 at the Heydar Aliyev Palace.